Today was our annual Halloween workout at CrossFit Aspire. The one day a year they tell you to dress like an idiot. I complied, quite willingly. It was easy: dreadlock wig/cap and a Bad Brains t-shirt. Ridiculous, but I loved it.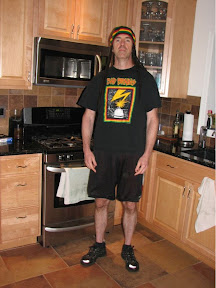 As for the workout, it was a blast:
Weighted Pullups in sets of 5 were the strength component (I got sets of five with 47 pounds in a weight vest that I was wearing, but when I went for 57 pounds, I only got a set of three...next time) followed by a partner WOD! I love team WODs. And somehow, they let Jamie and me be a team. What we lack in strength in our 49-year-old bods, we make up for with ace planning. This was the workout:
10 Rounds – no setting the KB down
10 KB Swings
10 Goblet Squats
10 Burpees
10 Jumping Lunges
Your partner had to hold the kettlebell while you did the burpees and lunges (or vice versa). We just each took a round and alternated. Boom. It was fun, and more tiring than it may look.
Oh, and we all looked awesome.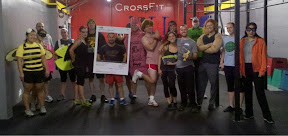 This all prompted a lot of eating today.
Pre-workout: black coffee and a bowl of sweet potatoes and apples.
Post workout immediately: 16 ounces of Vita Coco coconut water. Nice.
Breakfast: More black coffee and then eggs, last night's lamb/veggies and bacon.
Snack while watching Nebraska take Michigan State to the woodshed in college football: almonds and a little grassfed cheese (my first dairy in days...feeling a lot better).
Lunch: more of last night's lamb/veggies, over greens with guacamole.
Some Morning Thunder tea, then some herbal tea while cooking. Missing a good Saturday night while-cooking drink, I am.
Dinner: Whole Foods chorizo with green peppers and spinach. And sauerkraut. I love sauerkraut, and it is so good for your digestion. This was the super clean stuff from Whole Foods. Some frozen blueberries too, heated up in microwave.
Three weeks down.
Posted using BlogPress from my iPad